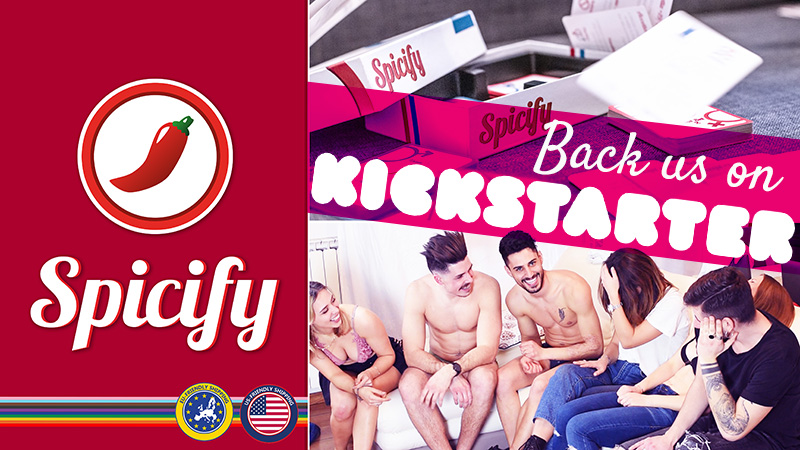 Being in charge for the planning of a bachelor or bachelorette party is always a tough job. Everyone has great expectations and it does not matter whether it will last one night or a week, you will need to put a great effort to make sure it will be something that everyone will remember forever.
We give some suggestions on how to plan the party in a different post, and if you are short of ideas we have many cool ones both for bachelor and bachelorette party. However one of the biggest problems while planning is to make sure that the bride or groom will actually enjoy it. If you know them well, then you should be able to figure out quite quickly what they might love and what they might hate you for.
At Spicify we love to push boundaries a bit, it is fun to discover new things you might love and you did not expect. Here it is a list of questions that might help you to find out how far can you go with your masterplan. It is also a good idea to try having these questions answered by every possible guest invited to the party.
You want to party hard with your friends, what would you do?
With this question you want to test what kind of activities the groom or bride thinks would pick to have a great party. There is no need to say that you should try to obtain a detailed answer. Something short, like "Dancing", might be good for a hint but it will not help that much.
Which is the most embarrassing thing you have ever done? Thinking about it now makes you laugh or does it still feels very uncomfortable?
Here you want to start getting an idea about which are the groom/bride boundaries and what makes him/her feel uncomfortable. If you are asking this in person (you should!) the way the answer is provided is as important as the answer itself. Indeed, body language may tell you whether the boundary is something that you can push a bit further or if it is clearly something that he/she will not be able to overcome.
What would you love to do at any cost before getting married that you have not done yet?
This is clearly a question with an open answer. It is crucial to understand if there is a desire that you can make sure turns into reality during the party. For some people it might be a simple thing, some other may have intricate wishes. Try aiming at something you think you can make happen.
Would you feel comfortable naked or in topless among your friends in a spa or beach?
In case of affirmative answer or one with just a little of indecision you might try to think about reaching a naturist beach or resort. This will spice up the party for sure and you never know, you might also discover you love the feeling of the sea breeze on all of your body!
Do you like being at the center of attention? Or even having a public?
This is a generic question to understand better the personality of the groom or bride. Does he/she have a bit of exhibistionist vibe? In case of a positive answer you might go for example for a shooting as a model along with the other guests of the party.
If instead the groom or bride would rather not expose to a public and you are planning some games involving challenges, you can consider the answer as a valuable hint for a series of penalties for failing at them (just as an example: improvise a sexy dance for the other guests).
Do you like more to watch or being watched?
The question is obviously related to the previous one, but allows to explore also the voyeuristic side of the groom or bride. He/she might not feel comfortable being the attraction of the night but maybe enjoys watching. If so, going to see something sexy, like a burlesque show, is an interesting possibility to keep in mind.
Make a list of 3 things that excite/arouse you and 3 things that you are "scared" of.
It is interesting to notice the ease in answering the question. Take a note of both the exciting and the "scaring" things, so you can use them to decide the activities and possible penalties in games. It is better to accept a thrilling challenge rather than an embarrassing penalty, isn't it?
Would you describe one of your sexual fantasies?
As you can imagine this is delicate question which leaves open the chance for the groom or bride to avoid it. If he/she opens up and tells one of the sexual fantasy it is already an answer about the level of comfort with sexuality, extroversity and a deeper friendship and trust towards you asking the question. Depending on the sexual fantasy you can decide if it is something that may fit in the party rather than not, maybe give him/her just a tip of it?
Have you ever had same-sex fantasies?
Ok, this is way beyond the regular conversation topics; again, apart from the "yes" or "no" answer that you might receive, try to understand if the groom or bride is comfortable with the question itself. In case, you might even add, "also with your partner". This will definitely test the openness to these kind of topics and the comfort level with friends when talking about this.
Is there anything in this list that your significant other does not know about?
Talking openly to your partner about sexuality is always a good idea, if they can understand it is a very good sign for the solidity of a relationship; whereas if your fantasies or desires make the partner feel uncomfortable it something you should really think about and consider in a long term relationship. This question is actually more for who gives the answer than for who asks it.
This brief list of question can help you defining what activities to plan for the bachelor or bachelorette party of the groom or bride, and it can be a fun part of the preparations. In the end it is always good to know your friends a bit more every time isn't it?
Would you like to involve boys and girls at the party and have fun all together? Some sexy actvities and themes might help to spice up things a little without going too far.
Games can also help breaking the ice, and we might have something just right for the job, Spicify! A sexy card game for couples and group of friends. We would love everyone to have fun with it as much as we do, but we need your help to make it happen! We are going to launch a Kickstarter Campaign to fund the production of the game, stay in touch to know when it will begin and help us spread the word!