Are you looking for a sexy game?
True story, Spicify was born for an unusual bachelorette party. Unusual simply because the two brides-to-be wanted also some of the guys to participate in what turned out to be a short and intense vacation in the marvelous city of Barcelona. We all had so much fun that we highly recommend it as an idea for either a bachelorette or bachelor party, especially if you do not have many occasions for vacations with friends. The idea behind Spicify was to entertain our group of friends with something fun and different from the same old drinking games. With both boys and girls invited, a hot game was perfect to heat up the atmosphere, after all it was a bachelorette party!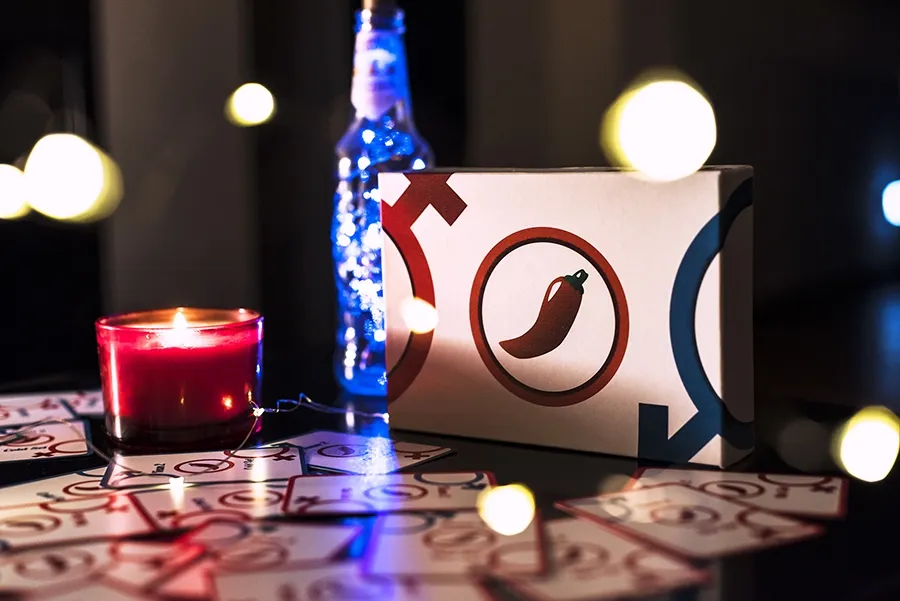 A hot game for a party
We wanted something that was not blatantly porn but neither dull, easy and fun to play for everyone and possible small enough so that we could carry around with us on a trip. Looking at what the market had to offer we did not find anything that could actually fit our taste.
We are quite creative and a bit kinky so we decided to design our own game from scratch. The first question that needed an answer in our minds was: how do you make everyone comfortable playing with such a game? In every group of friends there are those that are more open minded, outgoing, some might even have an exhibitionist vibe; but there are also some who are shy and feel less comfortable with sexual and hot topics in general. Our group of friends was no exception. There is nothing wrong with it, everyone has its own comfort zone and it is a good idea to take it into account. That does not mean you should not try to push things that little that it takes to increase that comfort zone.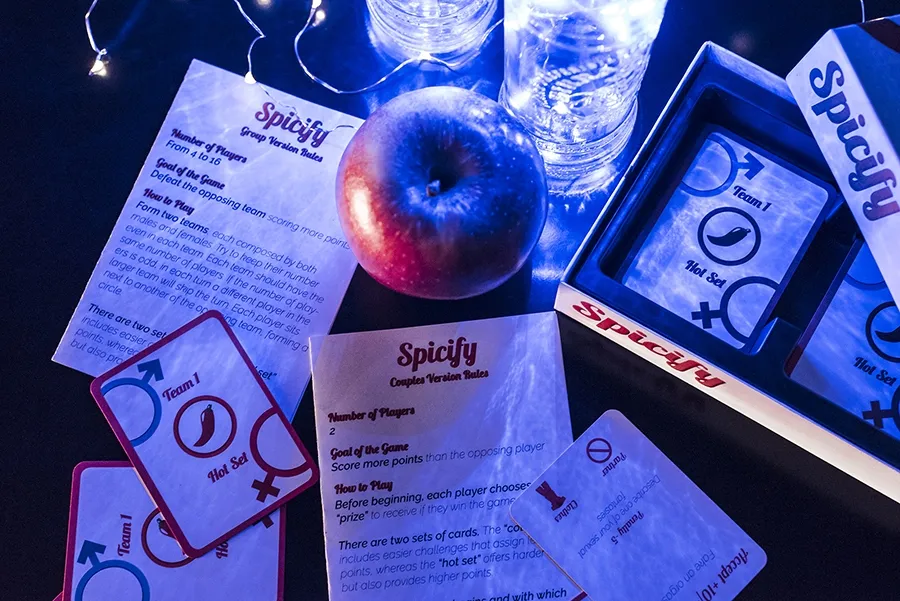 What kind of game is Spicify?
Spicify is a sexy card game designed for group of friends and it was created exactly with this goal in mind: pushing players out of their boundaries as far as they like to, while having a lot of fun doing it. We want everyone to have a great time, no matter if you are wild or shy. Turn after turn the game will lead you and your friends into different challenges, usually to be performed with a partner, in order to gain points for your team. To give everyone the time it takes to get in the right mood, the game is divided in two separate sets of cards. A cold set, which is perfect to break the ice, and a hot set that will offer some proper challenges even for those who are very confident and open minded among your friends.
To give that little extra motivation to those who might still need it, each player is part of a team of mixed boys and girls, and you win or lose together. Thus, each time you are challenged by a card you are not playing only for yourself but for the whole team! Making them proud of you is as easy as accepting the challenge and enjoying it. If you really do not feel ok with the dare proposed, you can still save some points accepting a little penalty. A penalty is a sort of naughty confession to the other players that Spicify will suggest when refusing the challenge. Yes, some of the requests might be a bit embarrassing, but you can always try to fake the answer… can you?
Even the most "no-no" friends, who might not be great players refusing most of the challenges, will likely participate as "playing spectators". This is not good for their team but definitely fun for the group. You never know, at some point the might change their mind and through themselves into the heat of the action. That is where the magic happens!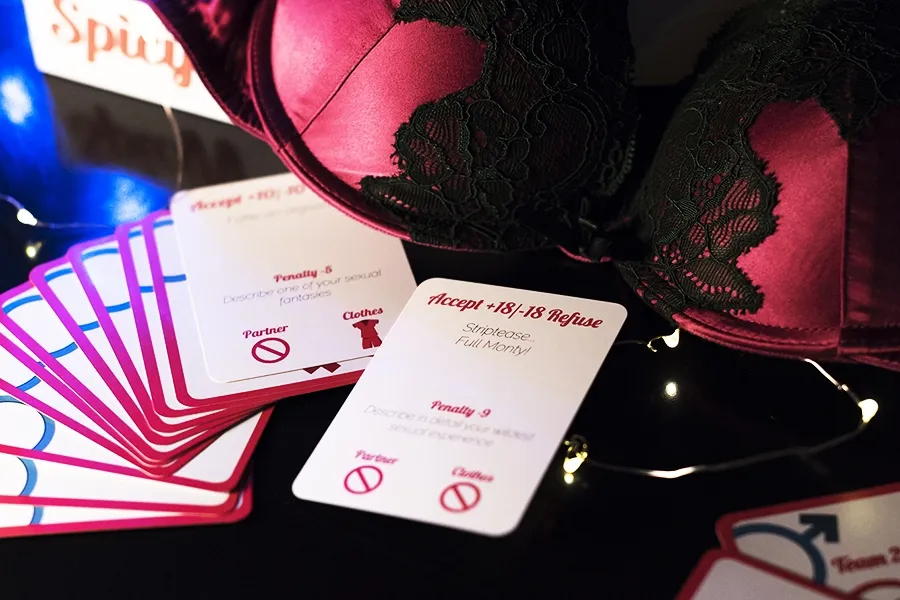 We believe there is nothing bad with some open minded playful time with friends as long as everyone is ok with it and willing to play. But we also understand that maybe some people would rather play such games with their significant other. This is why we added a specific rules set for couples who want to have fun playing Spicify in their intimacy.
Each of the sets proposes 28 different challenges, for a total of 56 dares and 50 different hot confessions. Replayability is high. You never know which challenge you might draw during a match and your partner will often be a random one. This increases the game longevity, even when played among the same group of friends.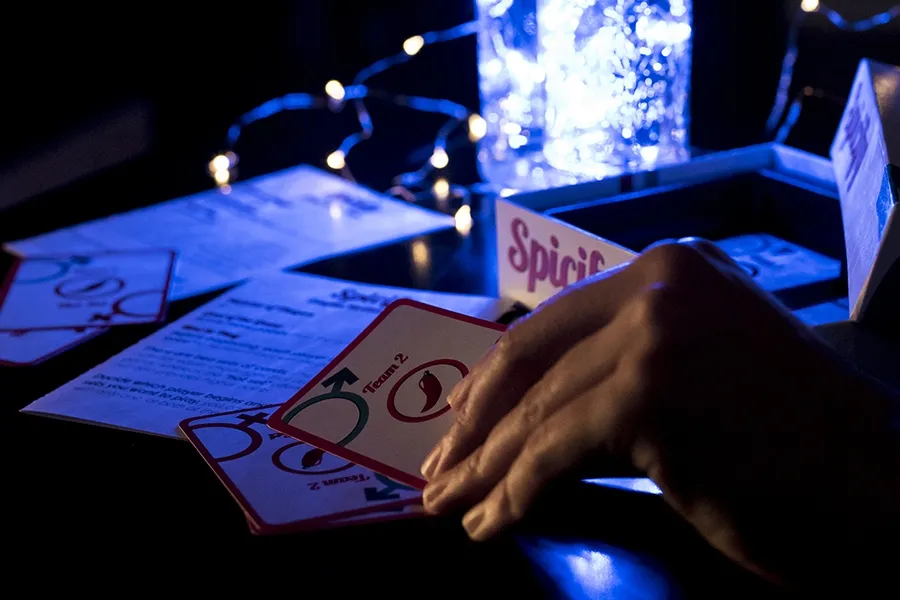 Where can I buy Spicify?
We will launch a new Kickstarter Campaing in early 2020 with a better version with more challenges and a lower production cost. We played the prototypes with many people and seeing how much fun everyone had playing it we cannot wait to allow everybody to play Spicify but we need your help to achieve our goal, so stay tuned!

How can I help?
Follow us on our social pages, like Facebook, Instagram, Pinterest, Tumblr, Twitter, whichever you like and use the most. We will post updates on the game, the funding campaign and the production of the sets every time we have something valuable to tell.
You can also register to our mailing list to stay in touch and updated with any news worth sharing about Spicify. 
But most of all… share the word with anyone you would love to play this game with!